Microsoft Teams is a hugely popular collaboration and communication tool, it's popularity continues to grow and one cool and under-used features is calling from the application. It is a fantastic addition to the Team Meetings (Video Conferencing inherited from Skype for Business), OneDrive support, and a single application to access a huge range of Microsoft and 3rd Party tools.    
When you install Microsoft Teams or the full Office 365 suite you have the option to use it as your default calling application. Here is a simple trick to open Microsoft Teams when you click on phone numbers on a website or from within 20NINE. 
This makes it possible to click on a phone number and MS Teams opens to make the call, no more copying the number or typing it manually in your Teams Dial-pad – that's all so 2010!
You can connect many online call providers to Teams, one is Skype for Business. Once you have connected your online call solution all calls done via Teams will be tracked inside 20NINE. Read this article from Microsoft to learn how to connect your online call solution to Teams.
Easy trick to register MS Teams as your Preferred Calling App from 20NINE
In your browser search bar, write tel:<phonenumber> and press Enter (eg. tel:+4673678465)
This should give you the question: "How do you want to open this?"
– Select Microsoft Teams from the list
– Make sure "Always use this app" is selected
– Press OK
Microsoft Teams should now ask you "Would you like to call this number"?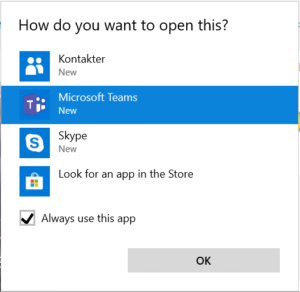 Register your calls in 20NINE
Follow these simple steps to have calls from Microsoft Teams register in 20NINE:
Connect your Microsoft teams account to 20NINE 
Check the contacts you want to call have a valid phone number
Click on the phone number on the contact you want to call
Once you end the call Microsoft Teams notifies 20NINE about the call and 20NINE adds it to the Communication log for the matching phone number in 20NINE
Now you you can initiate your call from within 20NINE, Microsoft teams or any website! As long as you are calling a phone number added to 20NINE the call will be added to the communication log to become an activity tracking hero.
PS. If you do not see the call in the communication log for the matching contact or company in 20NINE immediately after you hang, just wait as Microsoft Teams can have a short delay.